Coaches Page
Coaches Awards Portal
Coaches, log in here to enter your player awards.
If you don't have your log-in credentials, please contact
Joe Arias
Call: 631-360-8047 or Email: pres@suffolktenniscoaches.org
Suffolk County Varsity Tennis
Match Rating and Score Reporting Links

(Required)
Section XI has sent the following message as a reminder for coaches of winning contests to call Newsday:
Hello coaches and administrators,
We're ready to go for another exciting season of high school sports on Long Island. Our Newsday staff will continue to provide our outstanding coverage of all high school sports this fall season.
Coaches can continue to email in their results tohighschoolsports@newsday.com or call our sports desk at 631-843-2820.
They also can use our new mobile-friendly tool to submit scores and statistics via phone, tablet or computer.
Below are a few highlights of our expanded coverage:
The ability to take statistics and extended agate now exists for all sports in all seasons.
Our online scores/stats/rosters submission tool is a new set-up and 100% mobile friendly.
Coaches are encouraged to use our new program to enter such information.
The new URL for submitting your scores and statistics ishttp://sportscentral.newsday.com
You can also access it using the redirect http://newsday.com/coach
We strongly encourage all coaches and athletic directors to register their accounts beginning Wednesday, Aug. 23 at the above URL. Those with existing accounts from the past will need to reset their passwords as well.
We look forward to working with all of you.
Respectfully,
Gregg Sarra
Newsday High School Sports Editor

Click here for Newsday High School Tennis web site.
2017 SCTCA/USPTA
Workshop Topics
Suffolk County Tennis Coaches Workshop
Presented by the USPTA Long Island District and the Suffolk County Tennis Coaches Association (SCTCA).
Singles and Doubles skills and tactical drills.
Day: Saturday
Date: March 4, 2017
Time: 1pm to 4pm
Location: Sportime Kings Park, 275 Old Indian Head Road. Kings Park, NY 11754
Click here for directions.
Workshop Fee: $0*
*No charge to USPTA Long Island District and Eastern Division certified members (3 C.E. Pts.)and Suffolk County JHS, J.V, and Varsity tennis coaches.

Topics will include:

Singles skills and coaching drills.
Doubles Skills and development.
Including: Volleys – 1/2 Volleys – Lobs - Overheads
Multi-level Doubles Strategies
Advanced - Intermediate – Beginner Level Application
Singles/ Doubles Drills/Games.
Technical and tactical skill developers
· This is an on-court workshop. Bring your tennis racquet and be ready to play.
2016 Suffolk County Tennis Coaches Essentials of Doubles Workshop was held on March 19, 2016.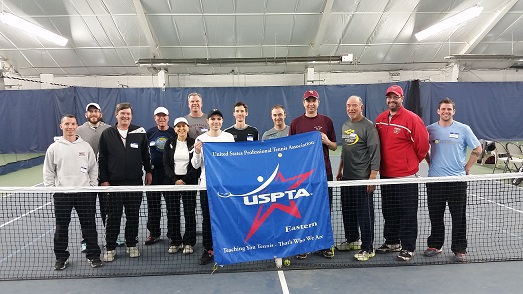 Past Workshops
2016 Suffolk County Tennis Coaches Workshop was held on March 5, 2016.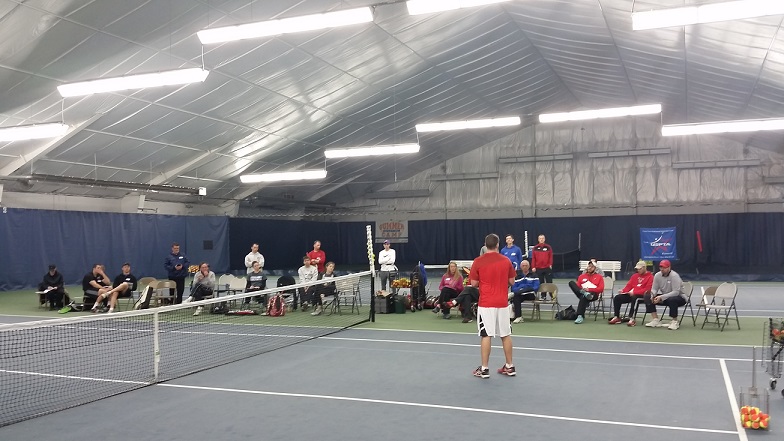 2015 Suffolk County Tennis Coaches Workshop was held on March 7, 2015.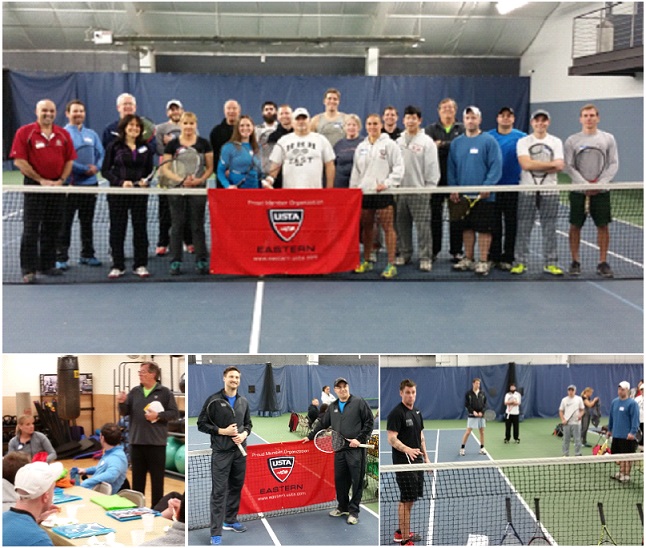 Click here to read the article in Long Island Tennis Magazine.